Helping Clients Stage and Sell Their Homes
HOUSES ARE STILL SELLING - JUST NOT AS QUICKLY. THE BEST LOOKING HOMES SELL FIRST, IT'S ALL ABOUT CONTEXT AND PACKAGING.
HERE IS HOW TO MAKE YOUR HOUSE STAND OUT FROM THE COMPETITION.
ReStyled to Sell Home Staging NJ assists their clients by packaging their home to show off its best features while downplaying the flaws. Home Staging is about romancing the buyer, putting them in the mood to make an emotional connection with a house! Home Staging creates the "dream home" environment for buyers so they don't have to use their own imagination and can immediately fall in love and say, "this is home!"
So why do so many investors, builders, realtors and sellers hesitate when it comes to Staging their properties?? I have heard many say that they are not willing to pay for the expense of Staging their listings, yet their vacant and/or occupied properties may sit anywhere from 6 - 9 months with no offers. WHY??
Think about how you feel when you walk into a model home. Let's face it, most of us visit model homes for decorating ideas and many builders have all their fancy extras in their model homes for the simple reason of WOOING THE BUYER. It works, doesn't it?? Would you feel the same way about entering an empty model? Probably not! Most buyers lack the decorating gene and therefore cannot envision how to place their furniture in a space to make the most of that space.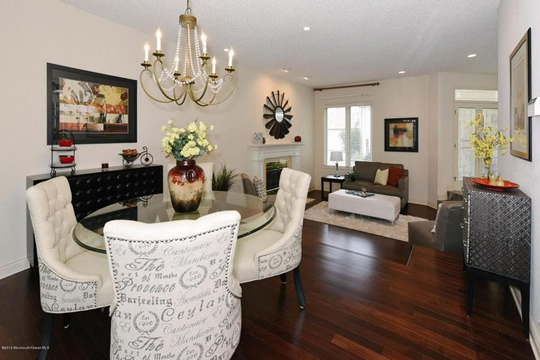 For the exact same reasons, ReStyled to Sell Home Staging NJ will set up your home to look like a model home that will appeal to a wider number of buyers. ReStyled to Sell Home Staging NJ will take an awkward room and/or space and lay out a floor plan that will help the buyers see the true potential of the home.
Going back to the expense of Home Staging, I have to say to builders, investors and sellers that Staging your Home is NOT AN EXPENSE BUT AN INVESTMENT!
Would you be willing to invest $3,500.00 to make $36,000.00?
Everyone's answer would be YES!! That was simple, right?? Well, not really. Most sellers feel that that fee might be too high and while their house has languished on the market, they feel that they lost enough money and now they don't want to make that investment of an additional $3,500.00 (fees vary) to Stage.
To that investor, builder, realtor and seller I say, "Don't be Foolish"
ReStyled to Sell Home Staging NJ just completed Staging a home that was on the market for (9) months. With an initial "INVESTMENT" of $3,500.00 the HOUSE SOLD at the first OPEN HOUSE for $36,000.00 over asking. The clients closed within one month!! Do you still think Staging your home is an expense??
Don't wait any longer, call ReStyled to Sell Home Staging NJ @ 732-995-3425!
Let the team of ReStyled to Sell assist you in all aspects of Staging your Home from painting, landscaping, furniture, accessories and everything in between. Let us help take your house from...
FOR SALE to SOLD!
Blog Categories: Home Staging Projects, Home Staging New Jersey
Request An Appointment
Have a question for ReStyled to Sell? Fill out the form below and someone will get back to you shortly.